MR3003 Suite of Products – Firmware
SYSCOM recently released the new firmware version v3.2.0 for MR3003 devices. Highlights of this release are listed below.
Wi-Fi connection
The MR3003 devices with Wi-Fi modules (MR3003C, MR3003TR, MR3003BLA) can now connect to a Wi-Fi network to have an internet connection, enabling remote wireless data acquisition. SIM card subscription costs can be eliminated when a Wi-Fi network is available. Internet connectivity through Wi-Fi is useful when a mobile network is weak or unavailable, for example, in the underground mining industry (among other applications).
Connectivity preference
On MR3003C, MR3003TR, MR3003BLA devices, the user can now choose the preferred internet connection, among the following three scenarios:
Cabled LAN solution between the MR3003 and a local router/switch.
Wi-Fi solution, in case of connection to a Wi-Fi network.
4G Mobile solution, in case of mobile connection with a SIM card.
File overwriting on SD card
From now on, it is possible to choose to keep the same existing logic (which is the default logic) by forbidding overwriting or choosing to overwrite the oldest files, when 90% of the capacity of the SD card is reached.
Choice of the background recording start
It is now possible to decide when the periodic recording will start.
The example of the below picture shows a file duration of 24 hours, with start at midnight. Every day will be then covered by a new file.
Once the button APPLY is clicked, the instrument records a first background file until the periodic recording start, then all successive files will have the duration T.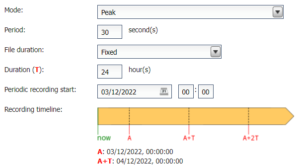 Additional information for human comfort modes
New human comfort modes have been added for background recording. The new options include:
Peak+ Dominant Frequency+ KBFTi (DIN 45669-1)
Peak+ Vector Sum+ VDV aw (ISO 2631-1)
Peak+ Vector Sum+ VDV aw (ISO 2631-2)
Peak+ Vector Sum+ VDV aw (BS 6472-1)
RMS aw+ Vector Sum + RMS aw (ISO 2631-1)
RMS aw+ Vector Sum + RMS aw (ISO 2631-2)
RMS aw+ Vector Sum + RMS aw (UNI 9614)
Upgrade link:
http://firmware.syscom.ch/mr3003/mr3kp-fw-3.2.0-rc1.img
Please consider that this new firmware version is a release candidate.
In order to have the most stable version, please consider the FW version 3.1.3: http://firmware.syscom.ch/mr3003/mr3kp-fw-3.1.3.img
About Syscom Instruments
Syscom Instruments is a leading provider of vibration and seismic monitoring equipment for civil engineering, strong motion monitoring and safety-focused markets, including nuclear power plants and liquified natural gas plants. Syscom Instruments reputation rests on the reliability of its products, coming from the meticulous control of design and production. Syscom's facility utilizes modern, automated production and test equipment to assure cost-competitiveness and high-quality products.
Syscom Instruments is proud to be part of Terra Insights, the industry's first end-to-end unified platform that provides trusted geotechnical, structural and geospatial monitoring technology and data delivery solutions.
Terra Insights is powered by five industry-leading brands that possess deep technical expertise and global experience—Syscom, RST Instruments, Measurand, 3vGeomatics and NavStar.